Energylandia is the biggest Amusement Park in Poland and is located in Zator in Polish Silesia. There are many varied attractions in the area more than 30 hectares for children, family and teens.
In Energylandia you can find many like carousels, roller coaster, theme parks and other attractions, that you can access unlimited times with only one ticket access.

Check our deals:
Energylandia Attractions:
Energylandia is divided into 6 distinctive zones:
Little Kids Zone – a zone for the youngest with a Dwarves Train, Sissi – the Fairy-Tale Carousel or Magic Flying Sightseeing Train.
Family zone – a zone adapted for the whole family with Boomerang, Anaconda, Dragon Rollercoasters or wild river Jungle Adventurer and Viking village.
Extreme zone – here are the fastest Hyperion, Speed or Mayan roller coasters.
Water Park – a water park with many slides, such as Kamikaze, Twister or the Tropical Fun water zone.
Dragon Zone – another area of rollercoasters, where you can find such as Frida, Zadra or Draken.
Aqualantis the kingdom of the ocean! – new high-speed zone with Abyssus and Tidal Wave Twister Rollercoasters.
Each zone has its own guiding attractions, but the most recognizable is the fast and extreme roller coasters:
Dragon – speed 75km/h, height 20 meters,
Mayan – speed 80km/h, height 33 meters,
Abyssus – speed 100km/h, height 38 meters,
Speed – speed 110km/h, height 60 meters,
Zadra – speed 121km/h, height 64 meters,
Hyperion – speed 142km/h, height 77 meters.
History of the amusement park
A married couple, Agata and Marek Goczał, known for running Energy 2000 discos, invested their savings in opening an amusement park in Poland, modeled on Western European Parks. With the help of European Union funds, it was possible to open Energylandia in the area near Zator on 14 July 2014. From year to year, the park was developed with new attractions, mainly with new roller coasters, such as Dragon, Mayan, Formula, so that in 2018 one of the most popular in Europe – Hyperion – was opened in it. The park is also still expanding its area with new thematic zones and a place for hotel investments. In 2019, Energylandia Park visited over 1.5 million visitors.
Company data
Energylandia was opened and is managed by the marriage of Marek and Agata Goczał. Currently, the park is managed by a limited partnership.
The responsible entity is Energylandia sp.k. with headquarters in Przytkowice 532A, 34-141 Przytkowice, Poland.
Price list and opening hours
The Energylandia Amusement Park is open from spring until late autumn. Detailed opening hours are on the park's website, but it is usually from April to the end of October. After this time, there may be additional days when Energylandia is open, such as Halloween or Christmas, but days and ticket availability should check before arrival. Then there is a period of conservation and preparation of the park to welcome visitors in the new season. Usually, the amusement park is open from 10 am to 6 pm. Tickets can be purchased at the ticket office and ordered online in advance to avoid waiting in lines. Tickets can be printed or used in electronic form on a smartphone or tablet. Tickets can be paid for by a fast online transfer with the support of Przelewy24.pl. Children up to 3 years of age enter the park for PLN 1, and ticket prices start from PLN 89. People who often want to visit Energylandia will be interested in annual tickets, thanks to which you can visit the park several times.
Tickets can be purchased directly on the park's website:
Buy a ticket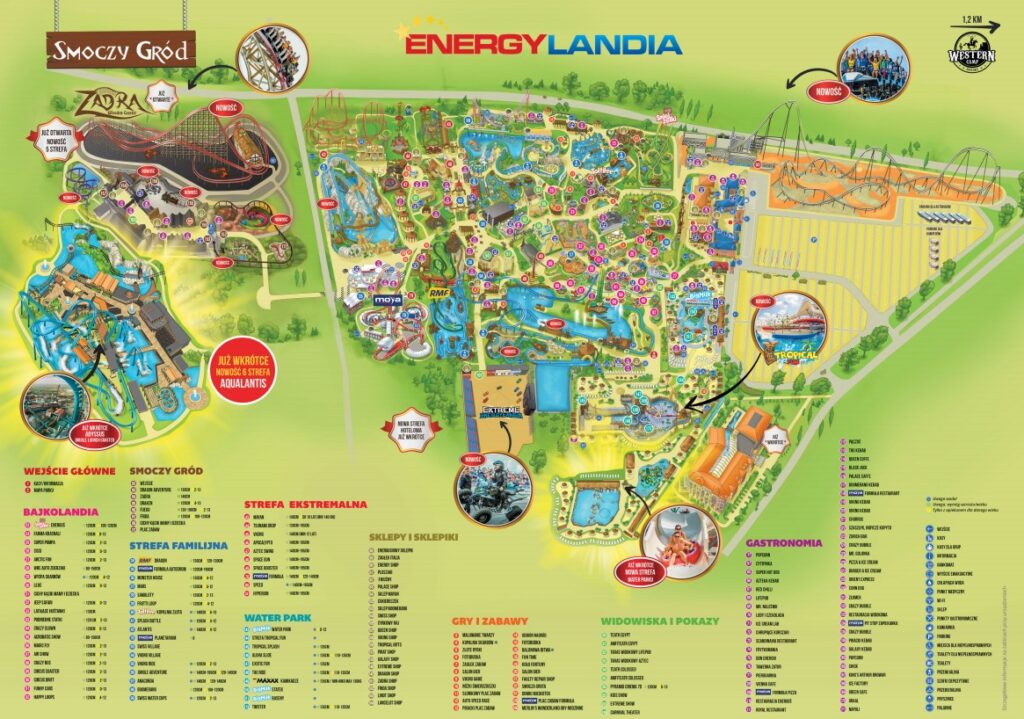 Gertting to Energylandia
Energylandia is located in Zator in Małopolska – between Krakow and Katowice, near Oświęcim. The easiest way to get there is by car via the A4 motorway and then follow Road DW781. Check directions to the Enegrylandia Amusement park. Parking lots are located near the park.
Accommodation
On the Enegylandia website, in the appropriate tab, you can find information about accommodation in the vicinity of the amusement park. The facility does not have a hotel directly in the park.
Find accommodation for yourself:
Contact customer support
To contact customer service, select the contact tab on the amusement park website and use the contact form available on it. You can also send a message to the e-mail address in[email protected] or call the phone number: +48 (33) 486 15 00.
Deals and discount codes
All promotion and rebate codes for Energylandia can be found on the website holiparka.eu. This way, you can buy admission tickets, passes and tickets for special events cheaper.
How to use discount codes
1. Choose from our offer an appropriate offer or discount code.
2. Copy or remember the coupon code.
3. Click the "Go to promotion" button, you will be redirected to the Energylandia website.
4. Choose the tickets that are right for you, add them to the basket, and then proceed to payment.
5. Below the selected tickets you will find the "Coupon Code" option. Enter the rebate code in them and then click "Apply coupon"
6. If the discount is correct, the value of your order will be reduced by the applicable discount.
7. Complete your order – you just saved money buying tickets.